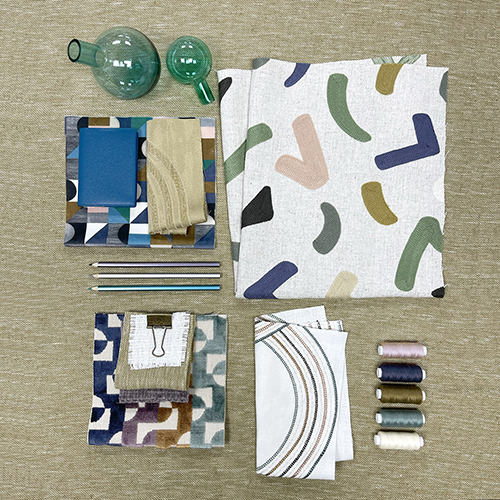 06/02/2023
Grape, the beautifully fruity decorating colour
A more pigmented proposition with deep blues: ocean and royal, a mint green, a touch of purple and a touch of bronze, with the black as a bold accent with vibrant, ultra modern energy.
Geometric embroidery with refined tones

 

«GIRELLE» is a embroidery that uses an extremely sophisticated stitch. Its curves are softlytraced, using new, truly original colour combinations.




 

 
Sublime curved lines embroidered on linen-look canvas

 

«KAOLIN» is a white, clay-like rock, used for
millennia in ceramic-making. Our embroidered "KAOLIN" fabric uses curved lines which show off a beautiful simplicity, slightly naïve, creating a totally unique aesthetic. The cloth has a linen finish, the earthtone shades are subtle. The embroidery lifts the design, and the raw yarn reinforces the natural aspect of the colours.
Ultra graphic velvet jacquard

 

« SÈVRE » is a velvet jacquard with a bold look: the rounded shapes and planes of colour
interlock. The rhythm of colours give this fabric its originality and modernity.