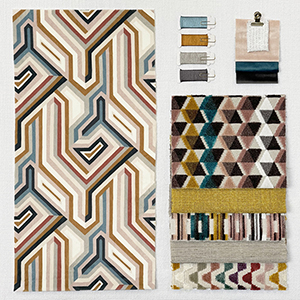 12/09/2022
Colour « évanescent »
Fall in love with this new palette !
Elusive pastel and petal pinks soften a feather-grey, opal-blue and an ombré-blue. To enliven it all : touches of warm, spicy yellow and an ultra-bright white.
Velvet jacquards with multi-coloured patterns

« Arenal » and « Lekeitio » are worked in the same quality of fabric and the same colour range as "Biscaya" and "Arriaga". These fabrics can therefore be combined in perfect harmony. The colour combinations : classic, soft or deep come together in beautiful palettes selected by our stylist, to work their irresistible charm in your home.

 

 
A voluminous pure geometry

The "Albia" polyester jacquard is woven using a shrinkable yarn to create a remarkable sense of volume. The design is traced like origami: a pared-back and airy design imagined in a colour palette of chic and on-trend mineral shades.
A luxuriant embroidery with infinitely detailed designs

"Pacifique" features delicately embroidered botanic motifs on a beautiful cotton satin. With finesse and precision comparable with a work of art, the foliage is lush, the flowers appear as subtle touches of colour. This creation makes summer endless, in a home filled with optimism.