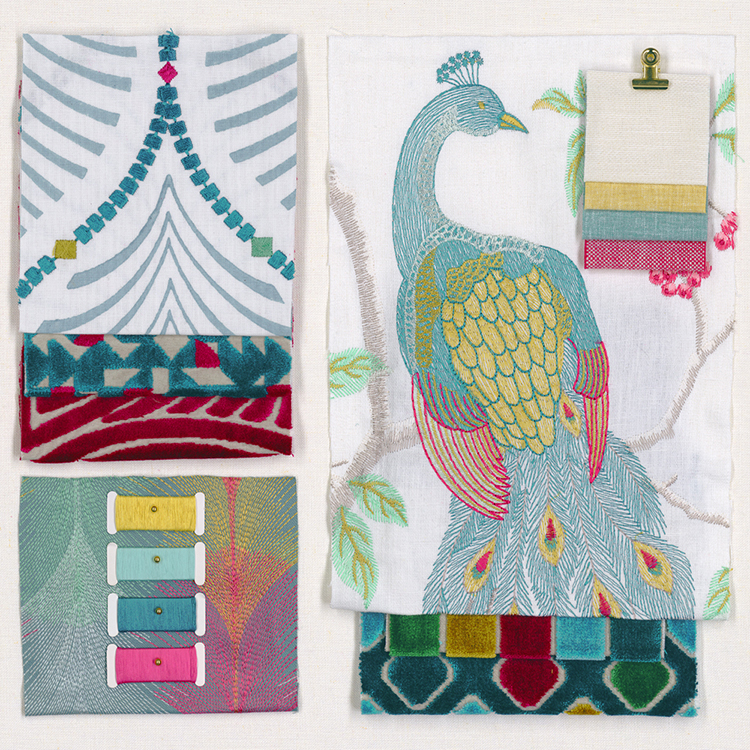 07/01/2021
Colour Peacock
A very beautiful peacock blue subtly resonates with shades of emerald green, light turquoise, pistachio and yellow. Touches of fuchsia pink lift the range creating a flamboyant contrast, a sparkling harmony.
A wonderfully rich universe, with finely worked details and sophisticated colours…"Designer poetry" creates meticulously composed looks, with lightness and character, in a romantic, ornamental and fanciful style. Opaline, pearl, jewels : the small and sparkling details add character and panache to dress curtains, embellish cushions and enhance seating…The decor is written, embroidered and constructed like a fairytale, with subtlety and elegance.
The fabrics are selected for their airiness and exquisite finish warm and cosy, soft and comfortable velvets. Embroideries adding touches of sophistication. Each creation is carefully embellished with a profusion of luxurious details. "Designer poetry" creates an interior with particularly refined furnishings, following their defined lines, in an airy style with golden or copper tones.