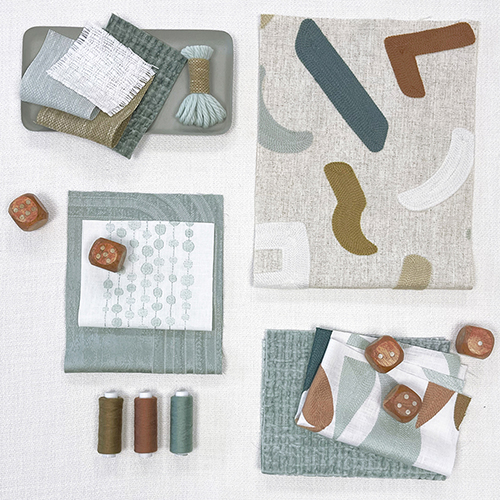 10/07/2023
Harmony of sky and earth tones : Horizon blue to siena Earth
When it comes to creating a peaceful and harmonious atmosphere in our living spaces, there is nothing quite like drawing inspiration from the natural hues that surround us. The shades of the sky and the earth converge in a visual symphony where horizon blues blend with bronze, siena earth, soft sand, cotton white, and a touch of khaki. This color combination creates a perfect balance, evoking both the serenity of the infinite sky and the warmth of the supporting earth.

The Charm of "KAOLIN": Imagine a white clay rock called kaolin, which has been used for millennia to shape magnificent ceramics. The embroidered fabric named after it, "KAOLIN," plays with curved lines that exude a simplicity that is both beautiful and slightly naive, creating a truly unique aesthetic. The fabric has a superb linen appearance, with subtle earthy tones carefully designed. The embroidery enhances the design, and the rawness of the thread reinforces the natural spirit of the colors, offering a delightful texture and visual appeal.

 

The Timelessness of "KAURI" Solid:
To complete this color palette inspired by the sky and the earth, we present the "KAURI" solid fabric. It not only offers an exceptional linen-like touch, slightly woolly, but also a generous and plush texture. Its fluidity and softness make it a remarkable fabric for dressing up your living spaces. Whether used for curtains, cushions, or linens, "KAURI" brings a warm and timeless ambiance to your home.

The Elegance of "RAKU": Let's continue our journey into nature-inspired decor with the exquisite embroidery of "RAKU." Crafted with cotton thread on a polyester/cotton blend fabric, this dense embroidery captivates with an exceptionally soft motif, reminiscent of mineral and organic materials. It embodies the delicate yet raw forms found in contemporary ceramic works. "RAKU" adds a touch of sophistication to your interior decor while evoking the essence of natural beauty.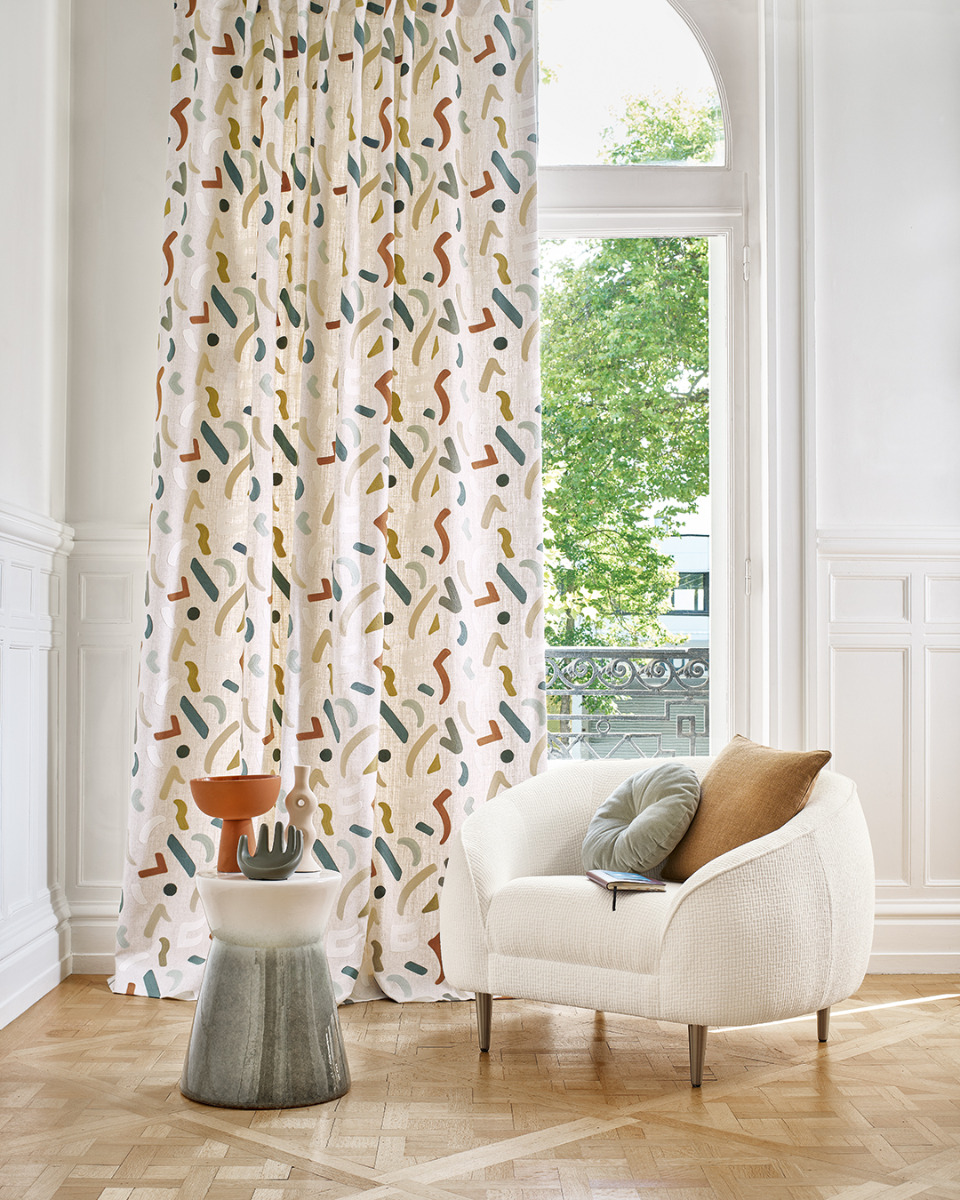 | | | |
| --- | --- | --- |
|   | The harmony of sky and earth tones creates an inspiring and soothing atmosphere in your interior decor. Color combinations such as horizon blue to siena earth, enhanced by touches of bronze, soft sand, cotton white, and khaki, transport you to a visual universe where nature and tranquility converge. By incorporating fabrics like "KAOLIN," "RAKU," and "KAURI", you can add an authentic touch and natural beauty to every corner of your home. Let yourself be guided by the magic of colors and create an interior that reflects your style, where calm, elegance, and harmony reign supreme. |   |