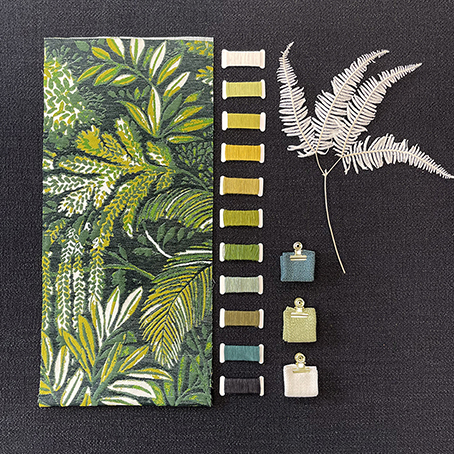 14/06/2023
Meadow-green : A captivating shade with soothing accents
If you're looking to bring a touch of freshness and serenity to your interior, meadow Green is the ideal color. Inspired by the exuberance of nature, this shade brings a joyful and incredibly beautiful ambiance to any room in the house. With its verdant color palette, Meadow Green creates a peaceful and calming environment, offering a true escape within your own home.
Pair meadow Green with touches of deep black to create a striking contrast. The combination of these two colors produces a dramatic and sophisticated effect while maintaining a welcoming atmosphere. Deep black enhances the depth of Prairie Green, highlighting its richness and vibrancy. You can incorporate black through decorative elements such as picture frames, lighting fixtures, or cushions, for a captivating visual impact.

To bring this enchanting color palette to life, discover the magnificent jacquard fabric "PARFUM D'ÉTÉ." This sumptuous and plush fabric offers a delightfully soft touch, creating a theatrical and enveloping atmosphere. Its large-scale pattern evokes a leisurely stroll in the forest, awakening enchanting sensations. You can use it to dress your curtains or even as accent cushions. "PARFUM D'ÉTÉ" brings a true summery ambiance to your interior, allowing you to escape anytime.

 

| | |
| --- | --- |
| | |
| If you prefer a Mediterranean aesthetic, "KIMONO" is the perfect choice. This delicate veil showcases a stylized Mediterranean landscape with a hand-painted motif. Let it float as a lightweight panel in front of your windows or glass doors, allowing the light to gently filter through the design. With an impressive height of 2.80 meters, "KIMONO" creates a fascinating stage, transporting you to the wonders of the Mediterranean. | Finally, to add a touch of intensity to your decor, discover the "RAKU PRINT." This printed version of our embroidered fabric "Raku" offers a bolder pattern, both in size and density. Its captivating design brings visual energy to your space, creating a bold focal point. You can use it to make curtains, cushions, or even wall hangings for a unique style statement. |
Meadow Green is much more than just a color. It's a true invitation to tranquility and escape. By incorporating this captivating shade into your decor, you create an interior that is both calming and inspiring. Let yourself be seduced by the beauty of nature inside your home and enjoy each day in a serene and peaceful environment.